Misty Mountain

A cover that will connect with the explorer inside of you.

View Product

Young Yellow

Rise and shine to this popular cover that is bound to brighten up your day.

View Product

Easy Emerald

Green crystal beauty to lighten up all your notetaking days.

View Product

Dear Daisy

Spring freshness blooming right on your notebook cover.

View Product

Midnight Mountain

Star watching splendor at any time, whether it's night or day.

View Product

Beyond Blue

An imaginary view of the universe captured in stone.

View Product

New Navy

Dark blue color to instill a sense of new found calmness.

View Product

Lovely Leaf

A leaf-inspired cover for the notetaking nature lovers.

View Product

Ruby Rose

Timeless dark red treasure stone glow right on your erasable notebook.

View Product

Purple Paradise

Winter dusk magic for you to stare at on any given day.

View Product

Pink Planter

Garden leaves on a pink background to delight all garden lovers.

View Product

Business Black

The elegant choice for your face-to-face work meetings.

View Product

Go Green

Forest feel right before all your notetaking moments.

View Product
Take a look at other collections
We harness the magic of stone paper to forge reusable notebooks that will last through the ages. An ideal tool to stand up against paper waste.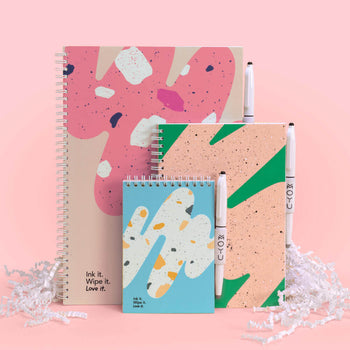 Back to Stone Collection
Rocky Ice
A cool blue ice-inspired wipe revealing a stone pattern cover.
Explore Collection
Nature on Rocks Collection
Sandy Jungle
Island jungle tranquility flowing all around this erasable notebook.
Explore Collection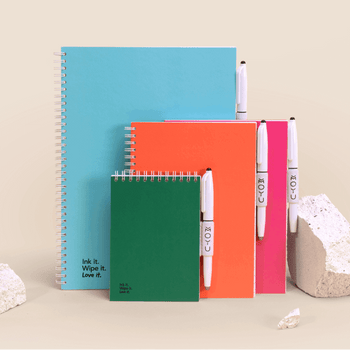 Solid Elegance Collection
Forest Green
Deep forest retreat within a single glance of your notebook.
Explore Collection
Explore our impact editions
We work with organizations that support initiatives which align with our values. MOYU 💚 good causes!