Flamingo Desert

A flamingo pink, desert sand spread across a notebook cover.

View Product

Rocky Ice

A cool blue ice-inspired wipe revealing a stone pattern cover.

View Product

Flashy Moss

Erasabe notebook with a lively moss green-inspired cover.

View Product
Take a look at other collections
We harness the magic of stone paper to forge reusable notebooks that will last through the ages. An ideal tool to stand up against paper waste.
Nature on Rocks Collection
Love Garden
A beautiful garden as seen through the eyes of a nature lover.
Explore Collection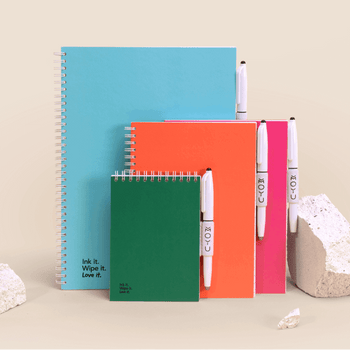 Solid Elegance Collection
Passion Pink
A bright passion-inspired notebook cover to power your days.
Explore Collection
Vintage Designs Collection
Pink Planter
Garden leaves on a pink background to delight all garden lovers.
Explore Collection
Explore our impact editions
We work with organizations that support initiatives which align with our values. MOYU 💚 good causes!